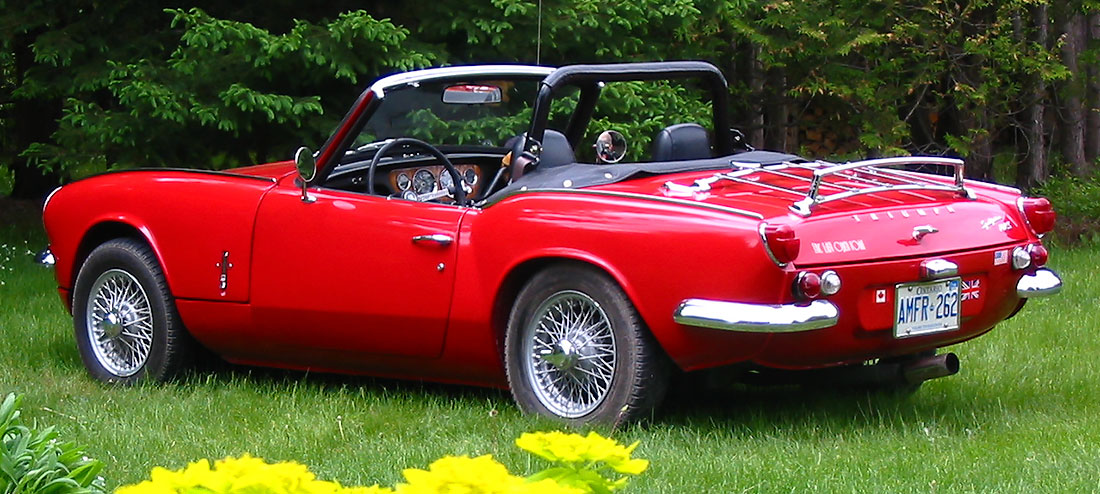 You Have Questions, We Have Answers!
GENERAL
The Vintage Triumph Register is a North American club of over 2,700 Triumph owners and enthusiasts. (You do not have to own a Triumph to join.) VTR is the only North American club which covers and supports all models of Triumphs. VTR publishes a quarterly magazine, "The Vintage Triumph."
What benefits are there to belonging to VTR?
In addition to the magazine, membership in VTR also includes:
free classified advertising in The Vintage Triumph
access to VTR's staff of vehicle consultants
a VTR Member Travel Assistance Program
various VTR club regaliaMost recently, VTR has worked out an agreement with a major classic auto insurance carrier to now provide low cost collector car auto liability for any year Triumph at costs far below regular insurance rates.
VTR also has an annual convention , hosted each year by one of VTR's many local chapters.
Who maintains these FAQ's?
Dozens of people have made contributions to the VTR FAQ over the time since its creation; there are too many to name individually. Special thanks go to Kenneth Streeter, Mark Bradakis, Andy Mace, and Bill Sohl who have been particularly helpful. The FAQ posting itself is maintained by the webmaster.
MEMBERSHIP
Take a look at our online membership brochure which will answer some of your questions specific to membership. The easiest and fastest way to join VTR is to do so on line using your credit card. Membership dues for VTR are: US$35 for all USA zip code addresses, US$45 for Canada and Mexico, and US$50 anywhere else. If you have additional questions not answered here on-line, send email to membership@vtr.org.
I see my membership is auto-renewing, I'd rather renew manually, how do I cancel that?
Your membership is considered a 'subscription' by Paypal.  Paypal defines a subscription as a recurring payment.
Memberships paid through PayPal are automatically renewed (paid again by Paypal) each year unless: 1) the subscription is cancelled by the subscriber; or 2) the funding source (e.g. credit card) Paypal has on file expires.
Note that the Vintage Triumph Register does not hold any credit card information on file (or has even access to that information) – these are entirely with Paypal, our external payment processor, and we do not have access to that information. Paypal "pushes" a payment to us and we renew the subscription/membership. In order to stop the recurring payment, you have to cancel it on the Paypal site.
To cancel your Paypal recurring payment, login at PayPal and follow PayPal's instructions on how to cancel a subscription. In short, you need to find the "preapproved payments" menu point or the transaction where you set up the subscription (or the last transaction sending funds to VTR) and click the cancel button.
Please do not contact us to cancel your recurring payment, as this is facilitated through Paypal and of course we don not have access to your Paypal account.
A subscription cancellation will cancel the (future) automatic annual renewal (recurring payment), but will not affect the current membership for the already paid 12-month term, and we are unable to refund portions of the membership fee for "unused" months within the current term.
Non-Paypal membership payments made by check will NOT be renewed automatically since they do not make use of the Paypal infrastructure. To renew, make a payment through your user profile, clicking "renew membership".
CONVENTIONS AND GATHERINGS
When and where is this year's convention?
Details about this year's Vintage Triumph Register Convention can be seen here.
Why hasn't there been a VTR North American Triumph Challenge (convention) in my area? How does VTR decide where to hold the convention, anyway?
In order to really answer this question, it is necessary to first explain a little bit about how the VTR board decides where to hold the North American Triumph Challenge / Convention. Basically, the VTR board doesn't tell a VTR chapter that they must plan to hold an upcoming convention, but rather relies upon VTR chapters to submit proposals for the opportunity to host it. Hosting the 4-day VTR convention is no small task, requiring a lot of time from a lot of volunteers.
The convention proposal process starts early, with chapters putting together proposals about three years prior to the event, and the VTR board making a decision from the submitted proposals two years in advance. A major factor in the VTR board decision is to move the location of the North American Triumph Challenge around the continent as much as possible. However, this can only be done as is permitted by the proposals received!
If you would like to have a VTR convention in your area, what is needed most of all is for you to talk to people in your local VTR chapter and get them excited about holding the convention (it is a lot of work over at least two years). Contact the VTR Event Coordinator to see if the convention has already been awarded for the year you're considering, since convention scheduling is now taking place up to three years in advance of the actual event. To "keep your place in line" until your final proposal is prepared, your club will need to send a Letter of Intent to host the convention on club stationery to the Event Coordinator. It is extremely helpful to put on a multi-day meet to get some experience, and then put together a proposal to have your chapter sponsor the convention! But, don't just do all the preparation in a vacuum — talk to the VTR board and prior convention hosts as well, to let them know what you are planning. They can help you avoid some of the pitfalls as well as let you know what is necessary.
Be aware that two or three other clubs may also be preparing proposals to host "your" convention, so think about the venue, budgets, hotel costs, etc. as you put yours together. Seek out the help of the local convention and visitors bureau – it's their job to get people to come to your area and spend money. They may even offer to prepare, print, and mail copies of your proposal at their expense to the VTR convention committee.
If your chapter puts together a solid proposal, has capable, willing workers, and is in a location of North America that hasn't hosted a VTR convention before, you'll probably be selected as host (unless some other chapter has done a better job in preparing their proposal to host the convention!) Then the real work starts!
Many of the Vintage Triumph Register local chapters have events on nearly a monthly basis. To find out about these events, you can either contact the local chapter, or peruse the VTR on-line calendar.
Instructions on adding an event to the calendar can be found on the event pages.