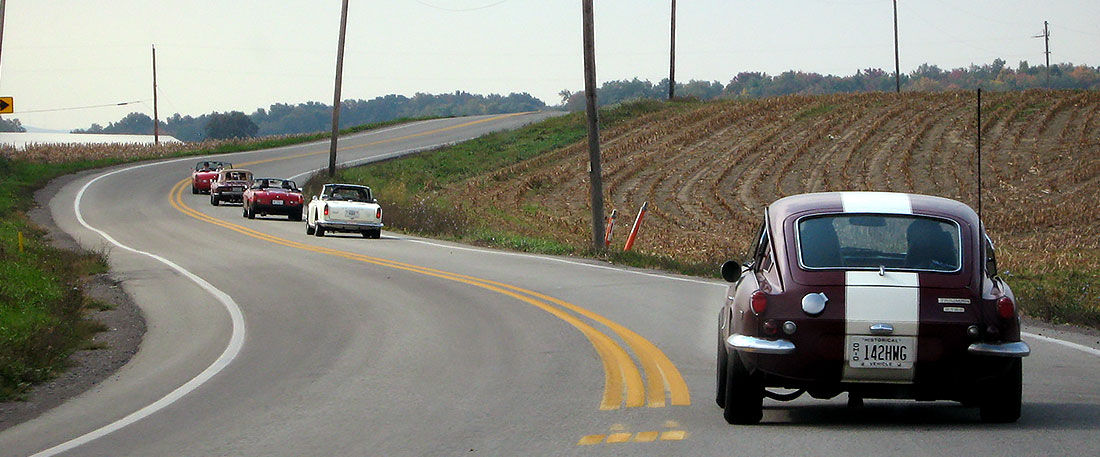 GT6
(1966-1973)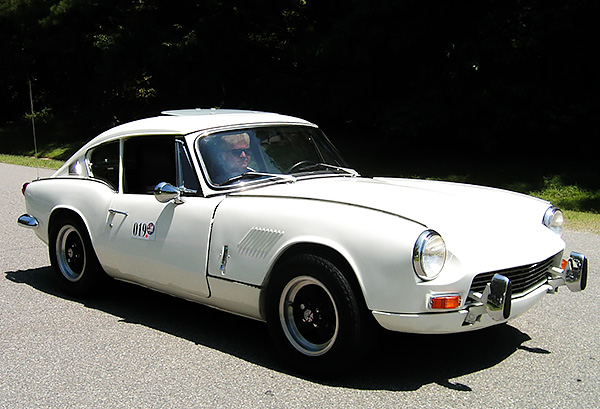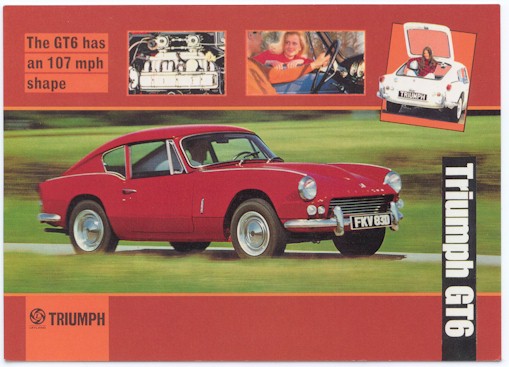 Michelloti-Designed Fastback "Spitfire"
The GT6 began when the Triumph planners, ignoring the plea for a "Spitfire-6," asked Michellotti to design a fastback body for the popular Spitfire . His design added too much weight to the car so the idea was shelved. The fastback body was in fact fitted onto a Spitfire chassis in Turin, christened the Spitfire GT, and driven home where it joined the small band of experimental one-offs used by a few members of the company. The pleasure the car gave to those who drove it worked an insidious magic and the Spitfire GT project became official policy in 1964. The decision to turn it into a six-cylinder car was the result of progress with the up-grading of the Vitesse to a 1998cc. It was a bit of a squeeze getting the 1998cc six-cylinder engine into the Spitfire's engine bay, but by creating a rather complicated cooling system and a large hood bulge they managed it. The GT6's debut was in 1966, a few months earlier than the Vitesse 2 litre.
In 1968 the GT6 Mk2 was introduced. It was fitted with an advanced lower-wishbone rear suspension layout; double-jointed shafts located by a spring at the top. The effect on the handling of the GT6 was very positive. The Mk2 also acquired a new cylinder head, borrowed from the TR5 , (giving potential for the engine to become a 2498cc, an advantage never utilized), but resulting in an increase of bhp from 95 to 104.
Internal facelifting of the seats, steering wheel and badging took place prior to the official launch of the GT6 Mk3 (known at the GT6+ in the IS) in 1970. In line with the Spitfire MkIV, the tail was "chopped-off" and the bonnet flattened out. The rear roof line of the GT6 was altered and petrol cap and door handles ceased to protrude creating a more svelte look. Optimism was high in the sales department but in reality the bell was tolling. The safety legislation meant a considerable increase in weight – the exhaust emission regulations badly affected the power of the six-cylinder engine and sales dropped…and dropped.
No official death certificate was released but on the thirtieth of November 1973 the last two GT6s produced quietly left the factory.
[empty_space][/empty_space]
Even More Info About the GT6
[empty_space][/empty_space]
"The new car had some very strong selling points. The new engine provided a 106 mph (171 km/h) top speed and 0–60 mph in 12 seconds, a little better than the MGB GT. Moreover, the unit was comparatively smooth and tractable, in marked contrast to the MG's rather harsh 4-cylinder engine. Fuel economy was very reasonable for the period at 20mpg, and the interior well up to the competition."  — Graham Robson, Triumph Spitfire and GT6.
The Mk III never sold in the numbers hoped for by Triumph, and was comprehensively beaten in the marketplace by the MGB. Triumph refused to release an official convertible version of the GT6 and, after poor sales, it was dropped from the Triumph range at the end of 1973, although a few cars were sold the following year.  — Wikipedia
If you would like your page added to this listing, please contact the webmaster.
Production Dates and Numbers
MK1
Built: July 1966 to September 1968 Total number: 15,818 Chassis numbers: KC1 to KC13752 Engine: Cast iron block and head. Straight 6 engine with 4 main crankshaft bearings. Capacity: 1998cc. Bore and stroke: 74.7x76mm. Compression ratio: 9.5:1 (8.5:1 for U.S., 1968-). Twin Zenith Stromberg CD150 carburettors. Max.power: 95bhp@5000rpm Max.torque 117lb-ft @ 3000rpm Transmission: Rear wheel drive from front-mounted engine. 4-sp gearbox bolted to rear engine plate. Direct gear change. Clutch: 8.5″ diaphragm type. All synchromesh gearbox. Final drive 3.27:1 (3.89:1 with opt. overdrive). Overall ratios – non-overdrive: 3.27:1 top, 4.11:1 third, 5.82:1 second, 8.66:1 first. Reverse 10.13:1. Overall ratios with over- drive: 3.89:1 top (3.11:1 o/d), 4.86:1 third (3.89 o/d), 6.92:1 second, 10.30 first. Reverse 12.06:1
Gearbox ratios: 1.00:1 top, 1.25:1 third, 1.78:1 second, 2.65:1 first, 3.10:1 reverse 20.1 mph/1000rpm top non-o/d 21.2 mph/1000rpm top o/d (3.89:1 final drive) Wheelbase and track: Wheelbase 6ft 11in. Track: front 4ft 1in, rear 4ft 0in. Suspension: Front: Independent double wishbone type with coil springs. Telescopic shock absorbers with anti-roll bar. Rear: Independent swing axle with transverse leaf spring, trailing radius arm and telescopic shock absorbers. Steering: Rack and pinion with impact absorbing steering column. 4-1/4 turns lock to lock. Turning circle 25ft 3in. Brakes: 9.7in dia. front discs. 8×1-1/4in rear drums. Wheels ard tyres: 155-13in radial tyres on 4.5in pressed steel or optional centre-lock wire wheels (standard on most U.S.-spec. cars). Bodywork: 2-seater sports Coupe. Opening rear tailgate. Optional 2+2 rear seats. Dimensions and weight: Length: 12ft 1in Width: 4ft 9in Height: 3ft 11in Unladen weight: 1904 lb Electrical system: 12-v negative earth. 56 amp-hr battery with dynamo. Performance: 0 – 50 mph: 7.8 sec 0 – 60 mph: 11.1 sec Top speed: 108 mph Touring fuel consumption: 31 mpg (Imp.)
MK2
(Known as the GT6+ in the USA)
General specifications as GT6 but:
Built: July 1968 to December 1970 Total number: 12,066 Chassis numbers: KC50001 to KC58046 (1969 models) KC75001 to KC82398 (1970 models) Engine: Compression ratio: 9.25:1 (8.5:1 — U.S.) Max.power: 104 bhp @ 5300 rpm (95 bhp @ 4700 rpm (U.S.) Transmission: As GT6 but overdrive now available with either 3.89:1 or 3.27:1 final drive. Overall ratio revisions with 3.27:1 final drive: 3.27:1 top (2.62:1 with overdrive), 4.11:1 third (3.29:1 overdrive). 20.1 mph/1000 rpm top gear (3.27:1 final drive) 25.2 mph/1000 rpm top gear (3.27:1 final drive) with overdrive. Wheelbase and track: Rear track: increased to 4ft 1in Suspension: Independent rear suspension with bottom "reversed" wishbone and transverse rear leaf spring featuring rubber 'rotoflex' coupled drive shafts. Wheels and tyres: As before, except steel wheels with "dummy Rostyle" wheel covers standard. Centre-lock wire wheels optional through 1969 but dropped for 1970 models in U.S. Length: 12 ft 3 in Electical System: Alternator charging system Performance: 0 – 50 mph: 7.2 sec 0 – 60 mph: 10.0 sec Top Speed: 111 mph
MK3
Specifications as per GT6 Mk 2/GT6+ but: Built: October 1970 to December 1973. Total number: 13,042. Chassis numbers: 1971 model: KE1 and on (KF prefix for U.S. cars) 1972: KE (KF) 10001 and on 1973: KE (KF) 20001 to 24218 Engine: Compression ratio: 9.25:1 Max.power: 104 bhp @ 5300 rpm 95 bhp @ 4700 rpm (1971, U.S.) C/R 8.0:1; 79 bhp (1972-73, U.S. engines with UE suffix) Transmission: 3.89 final drive standard with optional overdrive. Overall reverse gear ratio 9.85:1 non-overdrive, 11.71:1 (overdrive). Suspension: Rear suspension changed to swing spring type from chassis number KE20001-February 1973. (Rear track increased to 4ft 2in); 8×1-1/2in self-adjusting rear brakes. Wheels and tyres: "Ventilated" steel disc wheels; bolt-on Dunlop wire wheels optional. Dimensions and weight: Length: 12ft 5in Width: 4ft 10-1/2in Weight: 2030 lbs Performance: 0-50 mph: 7.7 sec. 0-60 mph: 10.1 sec. Top speed: 112 mph
Production by Model
GT6 Mark I
15818 vehicles
GT6 Mark II
12066 vehicles
GT6 Mark III
13042 vehicles
Source:  Triumph factory data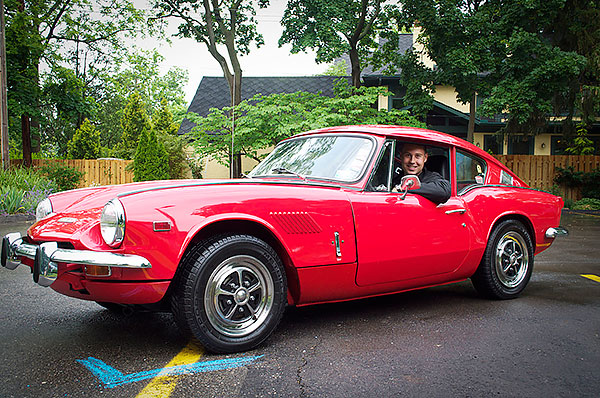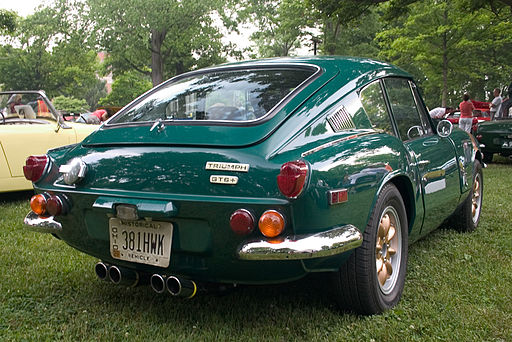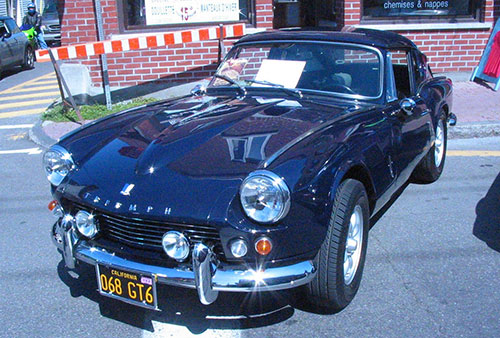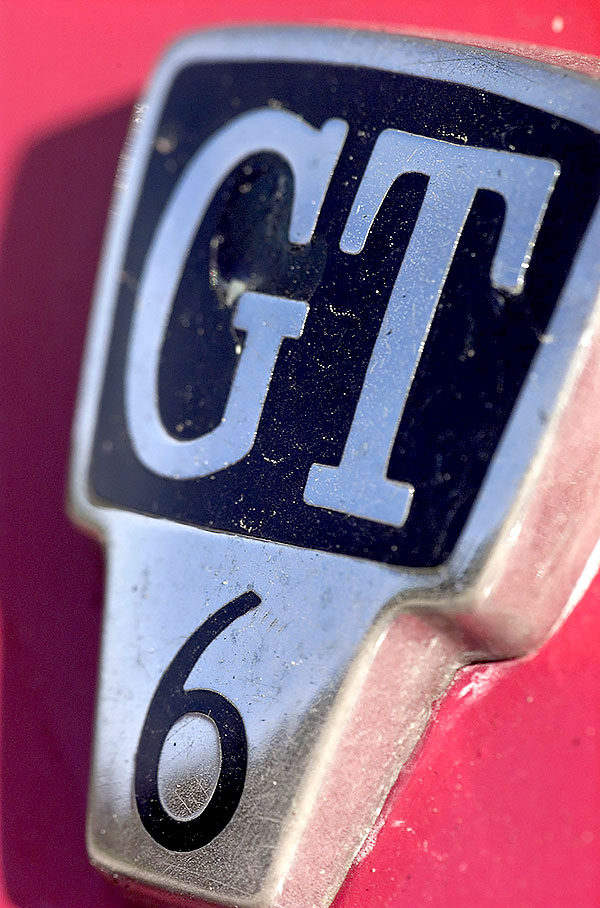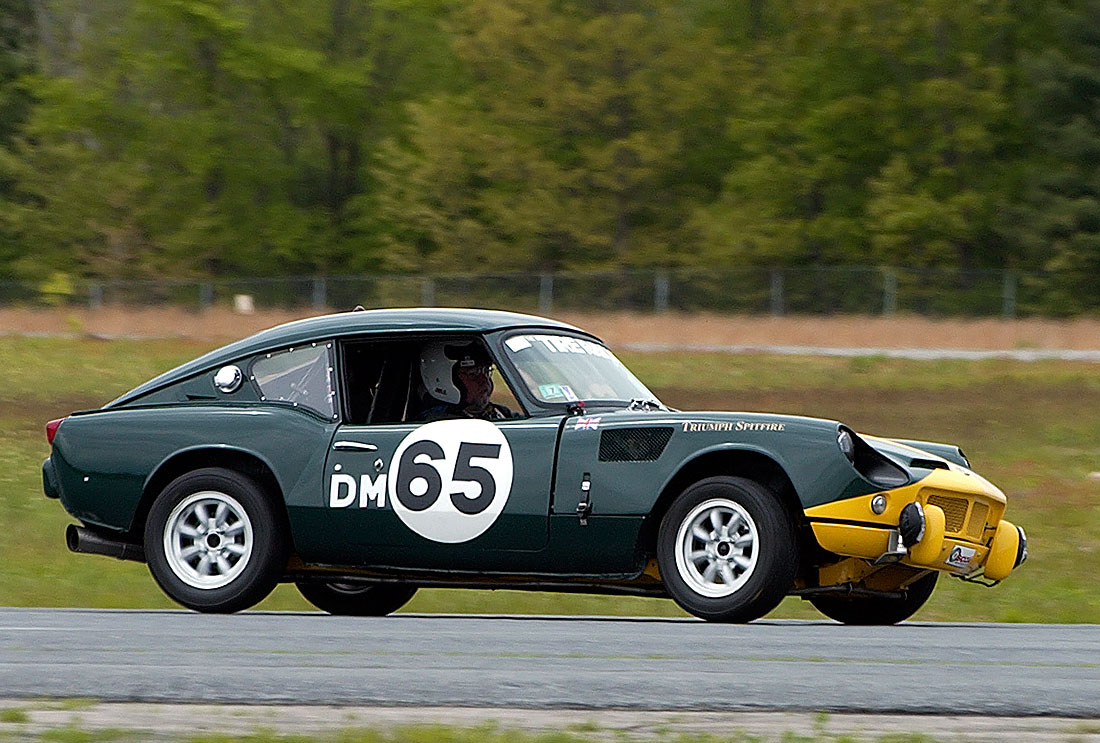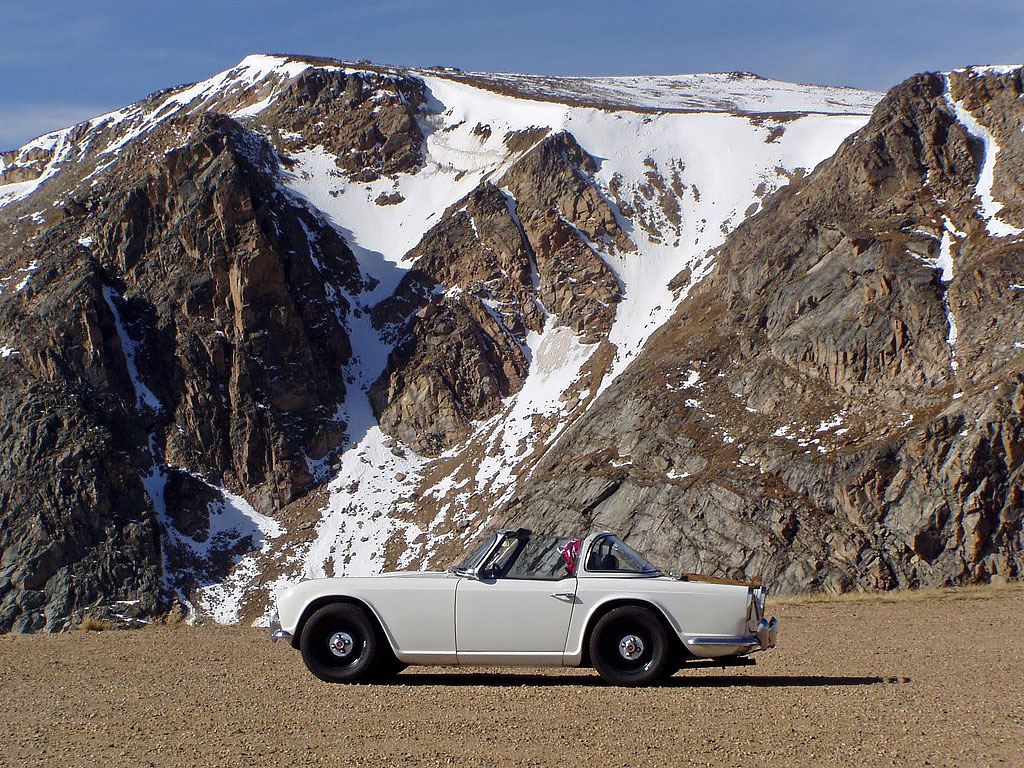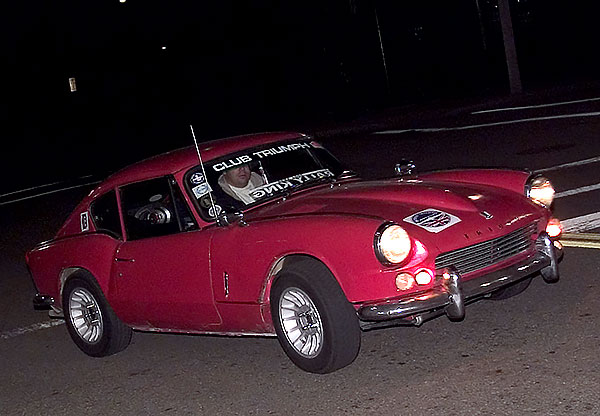 GT6 Buyer's Guide
by Christopher A. Kantjariev and Richard George
Overview: In addition to the items listed in the general Triumph Buyer's Guide , there are a number of specific items of interest on the GT6. The car's weakest spot is definitely the tranny, and the differential is probably next.
Engine: Check the compression. That year has the 9.25:1 head, so the numbers should probably be in the 175-185 range (cold). The car has the fairly bulletproof TR6 block, with the usual problems with low oil flow to the valve gear. Watch out for excess rattle up there; it might mean some work is needed (the shaft is about $80, and the rockers are $16 each). Check for smog stuff if the car is going to a smog state; '69 probably just needs PCV valve and vacuum advance/retard lines. Be careful if the car has to pass local emissions tests to get re-registered – these cars used the strombergs with the needle that slides on the side of the jet – Unfortunately, this wears a groove in the jet which hoses up your mixture (and of course the jet is non replaceable in this carb, and its mostly non-adjustable…) (I.E. IT WON'T PASS). The last time my '69 had to go through, I had to borrow someone else's carbs to do it… There are supposed to be fibreboard panels around the engine compartment; if these are missing it's a place to negotiate about originality and price. Of course, they're pretty much a nuisance, but…
Tranny: This is the car's weak spot; it *will* fail. Listen for excess noise and feel for worn synchros. Be prepared to either rebuild it or walk away from the deal if it crunches at all. Putting Redline MTL in will often help synchro problems, but the main failure seems to be the bearing on the output shaft.
Suspension/driveline: Check the state of the rotoflex couplings in the back (look for cracks in the rubber donuts) No one seems to replace them when they need it, so be prepared to replace them yourself immediately after purchase. Listen for excessive differential noise. Listen for universal joint clunks and thunks. Expect that at least one U joint will be loose and want replacement. These are all fairly cheap and available, but a royal pain to install. Same for all the rubber bits in the suspension. Worn rear radius arm bushings, especially, will cause slightly weird handling over bumps, and the rear end is squirrelly enough as it is! Check the steering rack gaiters for tears and the rack mounting bushings for play. There will probably be wear in the trunnions. The Roadster Factory (TRF) offers a complete front suspension rebuild kit for under $100, and it's well worth doing on a "new" car.
Overdrive: If it works, great. If it doesn't, well … it *probably* needs to have the O rings replaced, but that means pulling the tranny (and probably the engine with it).
Body: Probably the most important thing is the firewall; the car relies on this for structural strength. Go over it with a magnet and make sure there isn't much (any!) bondo. Look to see if the tranny cover mates well; if it doesn't, you'll get heat and fumes into the passenger compartment. Check the battery box area and the floor underneath it – your usual owner will replace the battery box only after it has caused severe rust on the floor under it. Look for the usual things about rust and trim. The rear shock mounts to the body at the upper end, so that area needs to be solid too. Check for chrome trim: there should be trim strips along the front and rear wings, and under the doors (under the sills, actually). Check for bonnet shake and the integrity of the rubber seals at the rear of the bonnet and the inner wheelwells.
Frame: Hmm. The body is a main spine with outriggers. Check the outriggers for rust; they provide most of the transverse strength of the car. Check the rear frame members for rust.
Brakes: Nothing out of the ordinary here; before writing off the brakes as weak, make sure the rears have been adjusted. Look for leaks around the master/cylinders. The brake master cylinder rebuilds easily, but the parts are expensive. The reservoir lid tends to crack; you used to have to buy the complete reservoir and lid, but TRF has just started listing the lid separately.
Price: While some jokers seem to think they can ask 4 grand+ for a perfect one, you should be able to find a good one for $1500 – 2500 (At least where I am…) (I think the 4 grand ones sit for a while, and the owner gets discouraged and…).
Fit/function: My legs aren't quite as long as TerriAnn's, but I have trouble fitting into my GT6, too. Didn't stop me from buying it, and one of the first things I did was buy a 13″ steering wheel. Made a huge difference. Leaning the seat back fairly far did the rest; now I'm quite happy motoring down the road in a semi-prone position … It's a hot little box — both in speed and interior temperature. Handling is pretty good, though the rear end tends to "hop" trying to find the apex… TriumphTune offers various bits that improve it greatly.
[empty_space][/empty_space]