Southern Cross
(1932-1937)





So What Exactly is the Southern Cross?
So what exactly is the Southern Cross?
The Southern Cross was Triumph's Sports Car from 1932-1937. The cars were named after a constellation visible only in the southern hemisphere. Triumph's primary export market was in Australia and New Zealand during the pre-war years. To this day prewar Triumphs are more common "down under" than anywhere else outside the U.K.
The Southern Cross (abbreviated "SX" on the body ID plates) was introduced in 1932 as a sports version of the Triumph Super Nine. This was a four seat sports tourer, a la Bentley, which could be driven with a tonneau over the rear seats. It was produced through 1934, and was the basis of Triumph's first works competition cars at the Alpine Trials and the Monte Carlo Rally of 1934.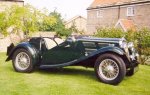 Dale Will's 1936
Gloria Southern Cross
The Gloria Southern Cross (also "SX"), introduced in 1935, was a short chassis sports Gloria, which was otherwise available in a range of tourer and saloon bodies equipped with four or six cylinder engines. The 1935-1937 Southern Cross feature two seat roadster bodywork, with a classic slab gas tank and twin spares on the rear. The four cylinder cars have a profile and length similar to a T series MG, but are wider and therefore appear larger. The much rarer six cylinder cars are stretched 9″ between the firewall and the radiator, which adds to the sweeping lines. All were styled by Walter Belgrove who was the only Triumph carryover into the post-war era, and would also give us our beloved TRs of the forties and fifties.
The Southern Cross compared favorably with other small sportscars of the day, and particularly excelled in trials and rallies where their strength could win out over lighter but more fragile machines. This robust quality would become the hallmark of the TR's success in later years. It is said that Standards CEO John Black acquired Triumph primarily for the sporting reputation, which was largely the result of the Southern Cross.
[empty_space][/empty_space]
A Brief History of the Southern Cross
If you would like your page added to this listing, please contact the webmaster.




Southern Cross ("SX") Buyer's Guide
Prewar Triumphs are rare, especially in the US. (Triumph did not manufacture a left hand drive until after WWII.) As far as we know, there are two SX in the US at the moment, Duncan Wood's 35 Gloria 4 in Texas and Dale Will's 36 Gloria 4 in California. The best bet of finding another would be in England. The Pre-1940 Owner's Club quarterly newsletter lists cars for sale, and a 1934 SX and a 35 Gloria SX 4 were for sale in the last year. In addition, the cars seem to surface every year or so in ads in Classic and Sportscar and other British magazines.
The going rate for a Gloria SX 4 seems to start at around 13,000 pounds for a presentable car and head up based on condition. [The exchange rate is stuck around 1.6 dollars to the pound.] The SX 6 is in a different league, and rarely change hands. At the other end of the spectrum, the 1932-1934 SX are least expensive; a good project car was listed with the Club for 1750 pounds this year, and an immaculate car was offered in Classic and Sportscar for 7,950 pounds a few years back. We need one of these in the US so I would encourage someone to go fetch one!
The SX compares very well to the other classic sportscars of the period from Singer, Riley, and MG. The value of a good Gloria SX today remains comparable to such other small prewar sports cars.
As with any very rare vehicle, completeness is tantamount. Replacement of body panels and other unique Triumph parts will be difficult and/or expensive. John Graves, of Flagstaff, AZ, is restoring a Gloria Speed Tourer and has decided he will have to go to England to pin down used fenders, etc. Having said that, the cars were handmade to begin with and can be recreated. Gary Thompson of Christchurch New Zealand is building a Gloria SX from a bare chassis. If you find a purchase candidate, the Pre-1940 Club can provide an invaluable consultation as to the known history of the car and the availability of anything that might be missing.
SX 14/60 driving impressions The Healey designed 1787 cc engine is a sweet torquey thing, which feels much like, say, a 1600 cc MGA. There is good power throughout the rev range, with no flat spots. The car cruises happily at 65 mph. I have taken it up to 75 mph where there is still plenty of reserve power, so the maximum should be around 85+ where the engine would redline in fourth. For now, 75 mph will do since the tires are old and the tach accuracy is unknown! The handling is tight, and is a delight on smooth surfaces. The springs (leaf all around) are very hard and body roll cornering is undetectable. The Burman-Douglas worm and nut steering is a bit vague on going strait, but is similar to a TR-3 in the turns. Bad pavement will bounce the solid axles about where some heroics are required to keep the car on line. Imagine a TR-3 with solid axles on both ends and you get the picture. Also, the old 16″ bias ply Avons tend to follow surface irregularities, so driving the car at speed requires two hands; no car phones need apply. The 12 inch hydraulic drum brakes are very firm, and stop true, but, combined with the narrow bias ply tires obviously require more distance than a modern car. In all, the SX is a very elegant go cart and is simply a blast to drive.
Above information provided courtesy of Dale Will, dalew@ci.aspen.co.us
Southern Cross ("SX") Spotter's Guide
Two things conspire to make hazardous any firm estimates of prewar Triumph production numbers. The first is that Triumph itself did not publish its production figures. This was perhaps due to its rather perilous financial circumstances in the thirties. Second, Herman Georing's Heinkels, Junkers, and Dorneirs bombed Coventry in 1941 and managed to destroy all of Triumphs records (a pre-emptive strike for Porsche?). Our only consolation is that the rebuilt factory was used to manufacture the ultra fast Mosquito bombers…
According to the Pre-1940 Clubs estimates, there were a total of 12,000 Climax 4 engined Triumphs made between 1932-1937. It is safe to assume that most of these were Super 9/10 and Gloria Saloons. Some unknown subset were the SX 4 of those two types (see History page). There were an additional 2000 Gloria 6 of all body types, inlcuding SX. Surprisingly, up until the early seventies, Glorias and other prewar Triumphs were still worth little, and were scrapped in great numbers.
The Pre-1940 Triumph Owners Club membership now includes eleven 1932-34 SX 9 & 10, twenty 1935-37 Gloria SX 4, and 2 1935 Gloria SX 6. The Club will shortly publish a list of all cars believed to still exist. The body number on my 1936 SX says "35 SX 69″, indicating that at least 69 SX bodies were made in 1935. Assuming an equal number were made in 1936 and 1937, the total SX production was under 200. Roughly one in four Glorias was a six cylinder.
Prewar Triumphs all seem to vary somewhat in small details. Along with the other Glorias, the 1935 Southern Cross was supplied with 17″ wheels, changing to 16″ for '36, and back to 17" for '37. The Gloria SX 6 was produced in 1935 only. The specification and appearance of the Gloria SX 4 remained the same throughout the run, with the limited exception of the few fitted with the 14/60 1787cc OHV engine as noted above. The Pre-1940 Club believes that none of the original 14/60 SX survive, and that the four SX 14/60s in the club, including mine, were all uprated to this specification using engines from Vitesse and Dolomite Saloons.
Above information provided courtesy of Dale Will, dalew@ci.aspen.co.us
Southern Cross ("SX") Spare Parts
The only significant source for prewar Triumph manufactured parts is through the Pre-1940 Club. Parts can also be found in autojumbles and want-ads. The only part on my SX which is common to my TR-3a is, against the odds, the door striker plates. However, the Pre-1940 Club has done a fantastic job of stashing away a cache of used parts and remanufacturing certain things such as radiator mascots, pedal rubbers, etc. The parts service is available to members only. Contact Jon Quiney, Membership, 2 Duncroft Close, Reigate, Surrey, RH2 9DE.
Gloria Coachworks is a restoration concern specializing in prewar Triumphs. Proprietor Rob Green boasts that he has now restored 29 of the cars, and is a wealth of information.. He will accept other vintage cars but prefers Triumphs! Rob owns a beautiful Gloria Vitesse 6 Saloon, and recently recreated the sole Gloria Freeflow Saloon using an original body which sat on a 4.5 litre Bentley chassis for 50 years. Both cars have been featured in recent issues of Triumph World Magazine. Contact Rob Green, 8, Queen Ave, Wallingford, Oxon, OX10 ONB.
In addition, many components were made by proprietary manufacturers such as Lucas, Lockheed, and Rudge-Whitworth and are common to some other prewar British cars which makes them easier to track down. For hydraulics, I discovered that the 1&1/4″ "cup" type wheel cylinder seals were also used on various Detroit iron and are available from NAPA.
For wheels, the consensus seems to be either British Wire Wheel in Santa Cruz, CA 800 732-9866 (will rebuild existing wheels) or Motor Wheel Service and Repair Co, Elder Way, Langley Business Park, Langley SL3 6EP, UK (for new ones).
I will keep adding to this list as I learn. Beyond that, prewar British car owners are a resourceful lot, have a great time on our emailing list, and seem to be able to track down or build virtually anything.
Above information provided courtesy of Dale Will, dalew@ci.aspen.co.us
[empty_space][/empty_space]